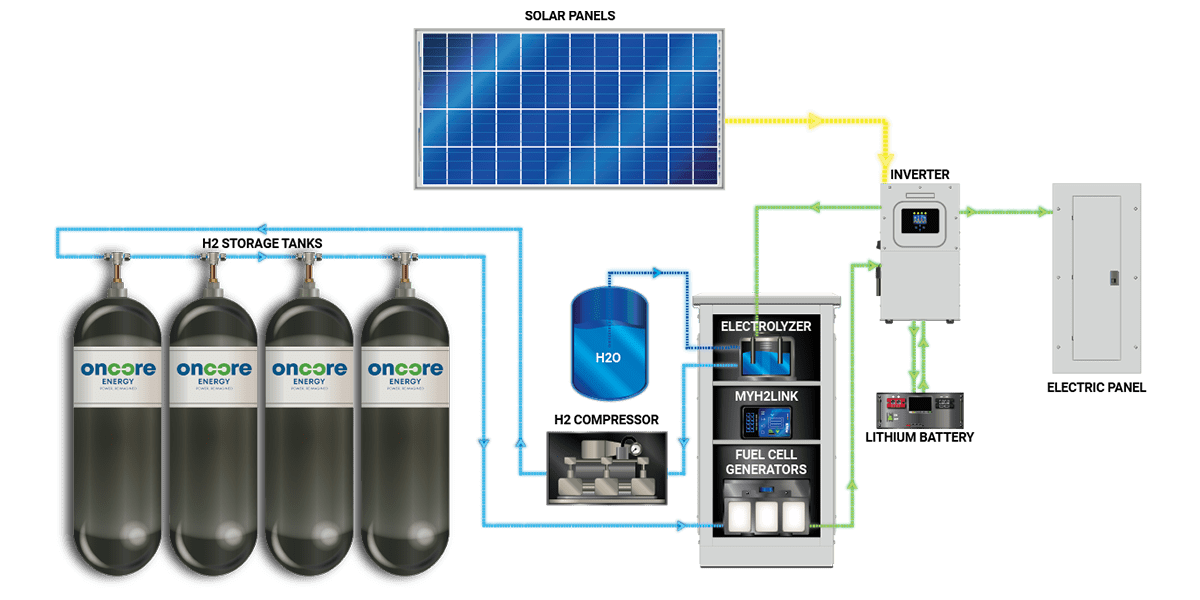 The clean, renewable energy solution for homeowners has arrived. You can power your home using hydrogen fuel cell technology. Carbon-free and cost-effective.
Own solar panels? You can even capture extra energy from your panels and store this energy in the form of hydrogen. This gives you virtually unlimited power storage potential. Your home will stay powered regardless of grid status.
Clean, reliable power for your home.
Oncore options for residential users
Residential users have access to many scalable versions of the Oncore system. These are modular and depend on the power generation you need in your use case.




Expandable to meet your needs

There are two options for Oncore Energy: Bronze and Gold.
Hydrogen fuel cell system outfitted with an electrolyzer to convert solar (or wind) energy to hydrogen. This allows you to convert extra energy from solar or wind directly into storable hydrogen. This gives a multitude of opportunities, including setting you up with your very own independent microgrid.
Convert sunlight to storable hydrogen energy. We call it "bottling sunlight".
Power your home with reliable, clean hydrogen fuel cells
Hydrogen fuel cells are a carbon-free fuel source produced by using electricity and water which powers your home in a quiet, clean way. Whether you are on the grid and are using Oncore Energy as a backup OR if you are using your own microgrid and are self-sustaining - the Oncore Energy system is reliable.
Tax benefits for homeowners
Homeowners can receive tax benefits in many locations around the U.S. We've created a list of all areas where there are local, state, and federal tax benefits.
For a full breakdown of each area's tax benefits, check out our Tax Rebates & Incentives page.
Store extra energy from your solar or wind
If you own solar panels or a windmill, you are likely creating too much energy during peak sunlight hours and zero energy at night or during cloudy days. Using the Oncore Energy Gold option, we capture all of your unused power, convert this to hydrogen fuel cells and then store this for later use.
Check your most recent energy bill to see what your demands are & contact us with questions if you need more information
Remember, adding an additional 4kW unit is easy and can be done at any time.
Oncore Energy works with trusted distributors and installers to strategize, set up, and install our units in residential homes. The Oncore Energy sales team will work with you on the details of your installation.
Yes. The system can be stored indoors, in a garage or outdoors adjacent to a building.
The cost of the unit largely depends on the situation. The biggest factors of cost are which size unit your situation demands, whether you use the Oncore Energy Bronze or Gold version, etc. Sales representatives will be able to take all these details and get you an actual estimated cost.
There is no odor and the system is very quiet. The exhaust is warm, humid and not dangerous.